Offices are allow an administrator to segregate users in to separate queues for the purposes of Batch Processing, Barcode Scanning or accessing the Drop Box.
Users can only belong to a single office and users can be "Locked" in their respective office to prevent them from accessing the queues for other offices in Batch Processing and in the Drop Box.
Assignment of a user to a specific office does NOT affect any of their site wide permissions or registered document access. It it only used to provide queue separation for Batch Processing and in the Drop Box.
While DynaFile references the term of "Offices" for these features, they can be used for "per-department", "per-copier" or even "per-user" separation.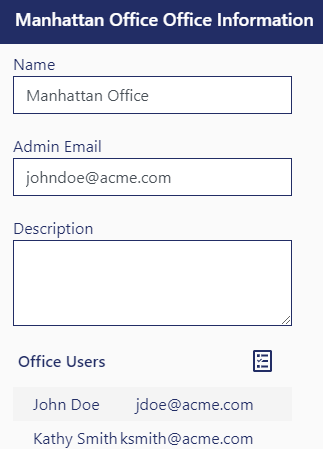 The only two required fields for offices are Name and Admin Email:
The Name is simply a short identifier for the office.
The Admin Email is the address that will receive notifications for failed Barcode Scan notifications as well as Public Uploads to the Drop Box.
The Description is optional, but provides administrative notes as to the purpose of the office.
To assign Office Users, click the 'Add Office User(s)' icon

(

) and then use the the

Multi-Item Selection

method to select users. Note that users can only be "locked" in their office through the Edit User section.
Notes about the Default Office:
The initial office defined for any DynaFile site is classified as the "Default Office".
While the Default office can be renamed, it can not be deleted nor can any other office be set as default.
When an office is deleted or when users are removed from a non-default office, they will automatically be reassigned to the Default office.