The search panel is used to retrieve documents by their indexing information. Since each DynaFile subscription includes a custom search panel tailored to your company, your panel may look a bit different in terms of quantity and types of index fields.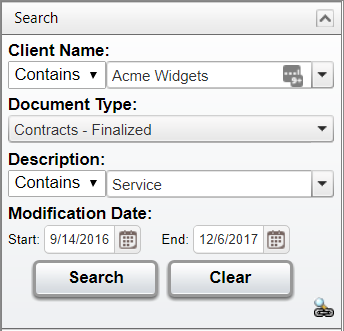 You can search for and retrieve your documents in the system easily using the Search pane from the Home page. The index fields that your documents are classified under can also be used to cross-reference and filter documents in the system.
Document Type
The Document Type field identifies the kind of file you are searching for.
For example, a contract or an IRS W-4 form. The Document Types are fully customizable from the Admin screen.
Date
You can use the date fields to search for documents based on date ranges.